Having followers on your LINE Official Account will increase your chances of generating sales. Therefore, it is essential for newly created stores that don't yet have a customer base. Adding followers to your LINE Official Account is necessary to start selling products online.
In this article, DIGITORY introduces the new LINE Official Account features to help SMEs or startups grow their businesses, which are Add friend ads or Gain Friends Ads features.
We can create Gain Friends Ads to get more followers for LINE Official Account by ourselves. Our ads will then appear on the LINE TIMELINE page with 7 billion views/month and on LINE Today with 36 million users. Additionally, the ad has the opportunity to appear on the chat page (Smart Channel), which already has 46 million active users. All three of these channels will attract LINE users who have seen the ad. Click to add friends immediately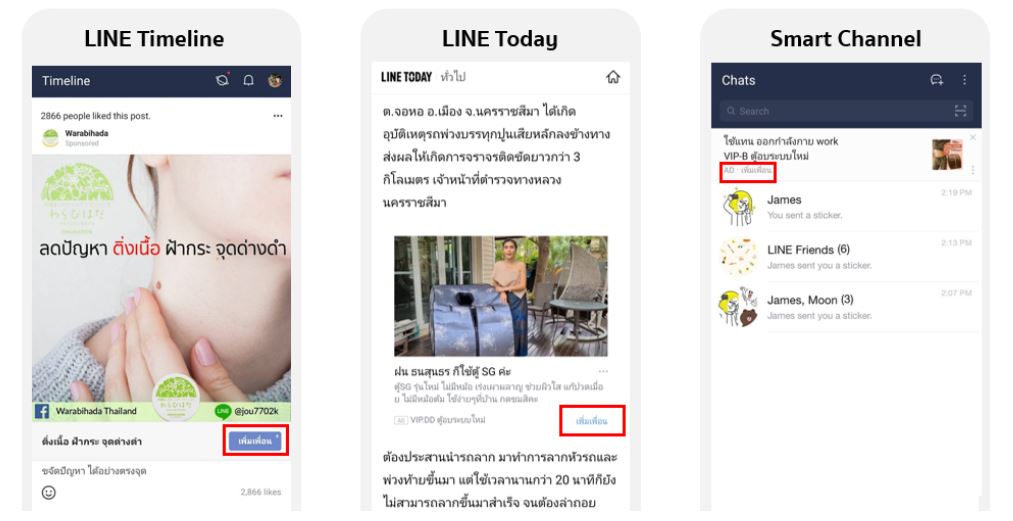 ---
Before you get started ads campaign, here are 4 things you should know about the Gain Friends Ads feature.
1. Your LINE Official Account must be a LINE Official Account as a Verified Account.
2. Your LINE Official Account must not be with an agency.
3. Set target audience to show ads as follows (Core Audience)
4. Ads can be purchased starting from as little as $ 30 per campaign and total up to $ 360 per account/month (about 11,000 baht).
---
Gain Friends Ads is suitable for?
The account that wants to add followers of LINE Official Account
Businesses looking for new customers
Want to do advertisement by yourself
A product that can be advertised by yourself
---
Next, let's learn more about the advertising campaign.
Here are a few ways to create a Gain Friends Ads:
1. Log in to your LINE Official Account at manager.line.biz > Enter to the main page> Select ads, add friends.
2. Press Create New> Select delivery goals> set budget.
When entering the Gain Friends Ads page, the system will display a window similar to broadcasting. Below is a list of the advertising campaigns that we have created. If payment is not yet registered, the advertising campaign will not be made. Then, click "Register" to choose your payment method.
If you have not previously linked your credit card to your account, you must register first.
After that, press "Create New" to start building the advertising campaign. The details are as follows.
Set up your audience and budget.
Target can be selected as follows:
Gender: Select All / Male / Female
Age Range: Can be selected starting at 15 years old and the maximum is 49 years old and older (if left unchecked, the system will show advertisements to all ages).
Demographic: You can choose from the provincial, district / sub-district level as well.
Interests: These will be interests collected from LINE users' behavior such as reading news on LINE Today, etc.
Budget can be entered as follows:
Total Budget (Ad Budget) can include a minimum budget of $ 30 per campaign and a maximum of $ 360 per account/month. Creating multiple campaigns when the ad has run through the amount, the Ads will stop automatically, and one account can create a maximum of 100 campaigns.
Price you want bid (Bid per friend) can enter the price offered. (Maximum of 32 USD). Currently, we recommend 0.7 USD. This is the bid price we set to the system how much we are willing to pay for adding friends.
The concept is same as when we go to the auction. Whoever gets higher will get the stuff but stuffs in here referred to a good advertising space that will be shown to our chosen target audience's eyes. However, please don't panic because it's not just the price that will give our ads an adequate space. Still, the beauty and the message of the advertising that resonates with the target audience are equally important.
3. Select content
Specify the display name about your account, ad description and insert ads image in JPG, JPEG or PNG format, 1080 × 1080 px for squares and 1200 × 628 px for rectangles.
Set up ads content
If you don't have ads image, you can create your own image by pressing "Create Image". There is a tool for creating images, which can add pictures, enter background color, put letters and press save to use.
4. Ads submission
Once submitted, the system will display a status of consideration for the advisor to review the ads' suitability according to the LINE Thailand policy. Upon review, it will show the status as showing and if not passed, ads will be rejected.
The basic requirements and guidelines for writing advertising copy of LINE are as follows:
Do not recommend containing more than 20% of the characters in the ads image.
Do not refer to the results of maintenance. Or drug treatment Or a picture showing results before and after
Do not use any uncomfortable content. Or with violence
Do not use confusing messages. Or interpret that LINE is a service provider
Do not use LINE Character, which is the copyright of LINE Corporation and its related companies. It is not allowed to be used without permission.
You can learn the policy of buying an add friend here.
5. Available Insights Data
To view insights, you can go to the menu. Insights> Friends> Gain friends ads. To view an overview of all the campaigns that we have created, you can click on the image of the campaign you want to view. There will be information detailing how many people saw ads, the number of friends added, friends added rate, and the price you have to pay for adding friends.
These numbers can be interpreted as follows:
Impression = number of times an ad was shown.
Gain Friends = The number of friends increased by clicking on an ad.
Friend add rate = ability to convert people seeing ads into friends (the more, the better)
Which is calculated from (Number of friends / impressionism) and multiply by 100 will result in%
Cost per gained friend = cost used to get 1 new friend (less is better)
Which is calculated from (Amount spent / Amount to add friends) as USD.
If you are doing multiple advertising campaigns, you can go to see an overview at Insights >> Friends >> Add friends ads.
It can be said that it is a very cool feature for all LINE Official Account owners. No longer have to worry that the LINE Official Account has been opened. This feature will help your business. You can also do it yourself without needing an agency.
If reading only blogs is not much satisfied, you can watch the video from DIGITORY through LINE Official Account.
---
Let's see the LINE Official Account Package summary below:
LINE Official Account – Monthly Package
It's simple! No matter which LINE OA package you choose, you can use all features via LINE Official Account Manager or Application on your smartphone as well. Each package has a difference in terms of the number of broadcast quota only. Besides, the message quota that we will send can be calculated as below:
Number of messages to send X Target Reach available

(Click here to see how to check Target Reach)
---
Why Go Online?
Our clients said that, we…
Work as a Team: We work as a team and always exchange ideas with each other just like it's our own business.
Easy to Contact: We can communicate through email, LINE Chat, phone calls, or any channels that our clients are accessible.
Service Mind: We pay attention to every detail that can be improved, and provide advice on expanding your business.
Certified: Our team has certificates and experts on each platform. We have Facebook Certified Buying & Planning, LINE Certified Coach, Google Ads, and Google Analytics as well.
Feel free to contact us at www.goonlinethailand.com