LINE Official Account is a LINE account designed for organizations, agencies, or individuals who want to communicate with followers. Besides, LINE OA will not affect the personal LINE Account. LINE OA (short name) differs from the personal LINE in that the special features that are provided in many applications such as:
LINE Official Account Special Features
Broadcast messages to followers at the same time. Also, selecting target broadcasting according to different criteria (need to buy the package if broadcasting more than 1,000 messages per month).
Maximum 100 Admin. Minimize ignorance chat problem, the admin could help answer customers.
Powerful Chat Management System such as Tagging by Category, Quick Reply, Quick Reply, etc.
Automatic Reply System after operation hours.
Rich Content to acquire new content that looks more interesting such as Rich Message, Rich Video Message, and Rich Menu to facilitate customers with buttons, divided up to 6 channels. Moreover, LINE OA's other features are promoting sales by using coupons, loyalty cards, and questionnaires.
Brand new! you can buy LINE Timeline Ads to increase followers.
Today, Go Online will share an idea of how to get more benefits by using LINE OA.
Does your business already know how to use LINE Official Accounts?
---
1. Retail business, wholesale, online shop
For trading business, there will be discussions or communication with customers first. Especially nowadays that Social Commerce is growing, most customers prefer buying products online by chatting with the store. Therefore, LINE Official Account of the store will provide a convenient way of communication. Whether you have a storefront or selling products online, LINE OA can be useful. With LINE's chat management feature, you can categorize customers or create a tag for each customer. For example, VIP customer tag/Top spender customer tag and then use it in broadcasting messages from the previously created tag. For this reason, it will save your monthly messaging quota as well.
Suppose you want to facilitate shopping for customers. In that case, you can activate the LINE add-on service called LINE MyShop to create an online storefront. Just enter shop details, products, stock management, sales management, and more, the system will issue an invoice. Then, you can accept payments via LINE Pay as well. That's why LINE OA is a must to have for all sellers.
---
2. Restaurants, cafes, bakery, and beverages businesses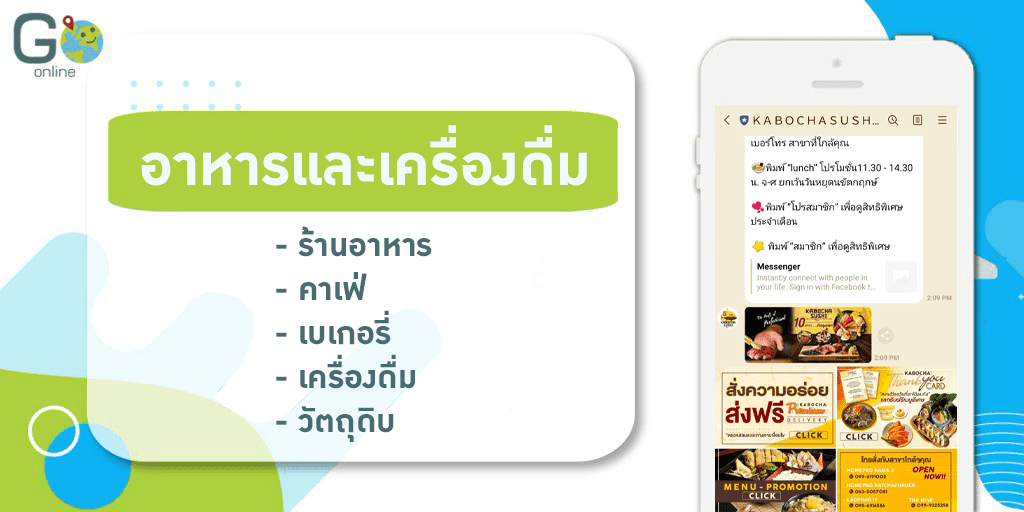 Nutrition is one of the four factors for everyone. Therefore, this type of business is becoming the most popular. However, the restaurant business has to acquire new customers. Business owners also need to focus on retaining the customer base as well. In this situation, delivery is a new model for the food & beverage industry. The online delivery owners have to use LINE as a helper because you can do content in a variety of formats, including rich menus that can add links to food ordering platforms, booking platforms, or coupons for customers that encourage online customers to come to the restaurant. Moreover, promote repeat-purchasing with Reward Cards. You can also broadcast to customers by using Rich Message that has a beautiful picture of food. Especially before mealtime, sales opportunities will be significantly higher.
Another thing that restaurants and cafes should do is setting operating hours. If customers greeting when the restaurant closed, Automated Message or Auto-reply can reply to customers.
---
3. Tourism and accommodation business
Tourism is a growing business in Thailand, including tourist destinations, accommodation, or services. All mentioned businesses must use a LINE Official Account because it is the primary channel that Thai people use to communicate with each other online. Even if you already have a website or Booking system, what is indispensable is after-sales service or support if customers want to inquire or report problems. LINE OA will help answer this question.
However, it does not mean that this type of business can only be used for chatting. You can run promotions on LINE as well. If you already have a discount given to your customers, you may organize promotions and coupons for customers. Just let customers showing coupons to staff. Customers can redeem coupons immediately. The redemption might be a discount, gift, souvenir, or others.
Moreover, suppose you are a tourist destination or accommodation that customers frequently travel to. In that case, you can create a QR Code to set up multiple locations for customers to scan and follow our LINE OA account. After that, customers will receive great information and promotions, which is an opportunity to increase sales.
---
4. Services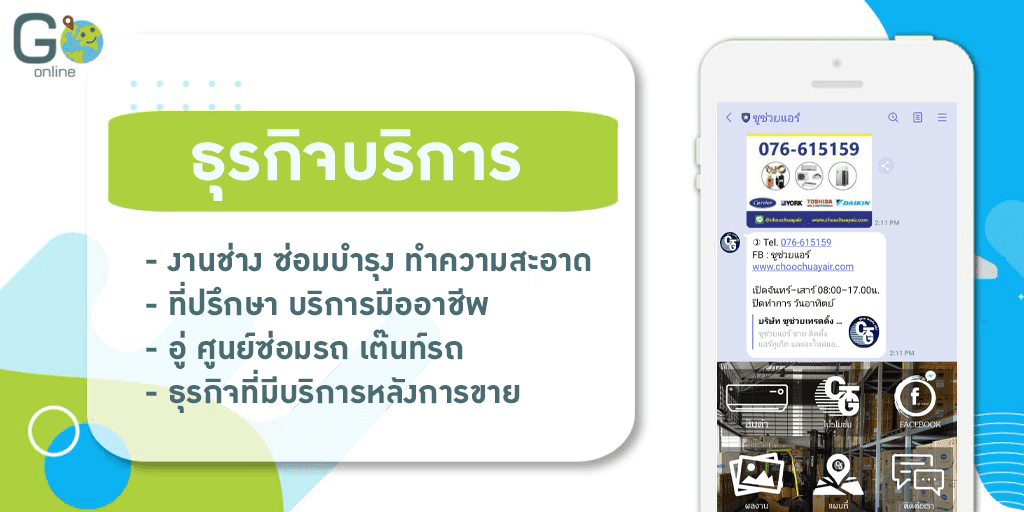 No matter what kind of service business you are in, you can use LINE Offline Account to operate the business. Initially, you need to inform customers to follow up with your LINE first, either by scanning a QR code or telling a Premium ID to them. After that, customers will receive a Greeting Message and see the Rich Menu displayed on the chat page. Here, you can design buttons to facilitate customers. Referred to Rich, this menu can be divided up to 6 channels together. It can link to the website or Social Media other channels or be entered as a phone number, press and call it as well. Ideal for service businesses. Besides that, if you are a service with consistent customer reviews, you can use those reviews as a result for new customers to make a decision. This is even more beneficial to overcome confidence, as well.
Another feature of LINE Official Account is an Auto-reply message that can be set to answer customers after business hours. In the morning, the staff can help you respond. Plus, LINE OA's chat system has the advantage of separating which sentences the admin responds to minimize chat confusion if you have many employees. For businesses with many employees, customers can choose to receive hair salons, nail salons, maid services, or tutors' services.  You can broadcast messages with a Card-Based Message in a particular form.
---
5. Real Estate business
A house must have residents. Communicating with residents or the inhabitants of every village will not be in trouble if the juristic person uses LINE Official Account. LINE Official Account has the advantage of broadcasting or sending messages to followers simultaneously; just set up once. Also, the juristic person can set announcements such as standard area maintenance fees or an urgent event.
You can create a QR Code attached in the residential area. It will increase your LINE OA account followers quickly.
The most important thing is the chat system. The chat system has features that are useful to legal entities or dormitory administrators. You can change the customer's chat name. For example, if a customer named Mr. Ry, you can ask the house number or room and change the chat name to the house number. Also, you can use the note feature to write a message or keep details of that householder. No matter how many admins you have, everyone can see the changed note and name. Moreover, it could make the villagers definitely impressed.
One more thing you can do is a survey. If you want to ask a lot of people's opinions, just create a questionnaire with questions (up to 7 questions) and broadcast out. After this, wait for residents to answer questions. You can download the results from LINE Official Account Manager as an Excel file.
---
6. Hospital
Quick access to health services is considered a convenience for customers. It also increases the chances of repeatedly using the service because a medical facility is a semi-serviced business and sometimes has products for sale. You can use your LINE Official Account in many different ways, such as using it as a chat channel to allow customers to ask for necessary details before traveling to use the service. During non-business hours, you can set a bot system to support customers. Besides, you can make Rich Menu a button to facilitate customers to press or do some services by yourself. This will make your LINE account more attractive to follow.
You can also use LINE OA as a communication channel for broadcasting, announcing new promotions, or issuing coupons for customers to show at the hospital and then press to use the privilege. So you can actually collect data and measure it.
If you are an owner of a beauty clinic, you can insert real customer reviews to enhance confidence. Include them as a collection of images on your profile page as well.
---
7. Institution
Current students and alumni can easily follow the institution's news if the institution uses LINE Official Account as a communication tool. LINE OA makes followers informed news more quickly. With the new broadcasting, you will be able to filter the age, gender, location for messages and send messages to them to reduce the chance of broadcasting to alumni. Besides, no need to open separate accounts for alumni or new students if you don't want to mess with managing your accounts.
In addition to sending news messages, institutions can create a profile page that provides essential information. Thus, for people interested in applying to be a student, sharing institution details, enrollment process, and credibility via LINE OA might help them decide. Moreover, details every written on the Profile Page will be displayed on Search Engine and SEO (Search Engine Optimization). Thus, if you have a well-planned keyword, there would be a higher chance that your institute will appear on Google.
Note: Profile Page Link can be created LINE OA account is certified. You can see an example of Go Online's Profile Page here https://page.line.me/goonline
Also, you can see an example from DIGITORY, a Digital Marketing Institution that is our partner here https://page.line.me/digitorystyle
---
8. Businesses or agencies that have branches
If you have many branches to manage, it's not a hassle because LINE Official Account has an Account Group function. So, it would be easy to categorize account groups. When you create an Account Group, the administrator can broadcast once. However, messages can also be sent to the followers of each branch account. The advantage is that each branch can still use separate accounts by handling separate chats.
If you don't want to have many LINE OA accounts because your business has not many branches or each branch has similar details, you can use the same LINE OA. Besides, when customers chat with you, you can use the "Chat Tag" function depending on the situation and each business's size.
(For example, a large organization of each province. It is recommended to open 1 separate account per province so that each region can operate more conveniently).
---
9. Internal Communication
For large organizations with many employees, announcing anything to employees might be difficult. Just sending the email, some people might open it or not. In contrast, using LINE Official Account to broadcast guaranteed that the messages will be sent to all followers. The reason is that LINE is a chat application that people always using. Therefore, the main feature that will help internal communication as well is broadcast. In addition, you can make a Rich Menu for the convenience of people within the organization. You can also put a link in Rich Menu so that employees can easily access the necessary sites such as Leave notice, Request for withdrawal. The employees can also download documents that are frequently used depending on each department's needs.
Another technique for internal communication LINE OA accounts is that you don't need to request a verified account (Change from Gray shield to Blue shield). The verified account allows people outside the organization to find your account name even though you don't know the ID. In this case, we would like to recommend buying only Premium ID and subscribing monthly package.
---
10. Public Person or Identity
When being a public figure, you will have more fans or followers. Therefore, you don't need to get your followers to add their own LINE. Still, you can use LINE Official Account as a primary communication channel because of various features. You can use the broadcast feature as an announcement to let your followers know new reviews, new music, events, or schedule updates. The manager and admin to manage as LINE OA can add many administrators.
You can also create a Rich Menu tab and put a link so that the website traffic might increase as well.
Anyone wants to know that your business can use LINE Official Account or not? You can ask Go Online team or learning by yourself from our article. Click here.
---
Let's see the LINE Official Account Package summary below:
LINE Official Account – Monthly Package
It's simple! No matter which LINE OA package you choose, you can use all features via LINE Official Account Manager or Application on your smartphone as well. Each package has a difference in terms of the number of broadcast quota only. Besides, the message quota that we will send can be calculated as below:
Number of messages to send X Target Reach available

(Click here to see how to check Target Reach)
---
Why Go Online?
Our clients said that, we…
Work as a Team: We work as a team and always exchange ideas with each other just like it's our own business.
Easy to Contact: We can communicate through email, LINE Chat, phone calls, or any channels that our clients are accessible.
Service Mind: We pay attention to every detail that can be improved, and provide advice on expanding your business.
Certified: Our team has certificates and experts on each platform. We have Facebook Certified Buying & Planning, LINE Certified Coach, Google Ads, and Google Analytics as well.
Feel free to contact us at www.goonlinethailand.com